Home
Details

Hits: 11847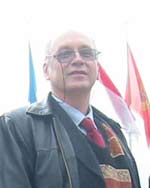 In fact I started browsing of Internet from the very day it has come to life. Everything has changes since then, especially sophisticated searching engines and social networking, specialized interactive and blogging websites, entertainments and on-line games, knowledge dissemination and such practical instruments like on-line auctions, e-commerce, collections of free software, encyclopedias, music, video and photo and many other useful and interesting facilities. In fact I offer my personal page with my priorities to you for free. Listen, read, download and use everything for free of charge.

I graduated from Tbilisi State University's physics faculty. I started my career as civil servant at the Institute of Scientific and Technical Information and then obtained scientific degree at Technical Sciences. Then I worked at private enterprises, NGOs, International programs. I was Short Term Expert for different projects with the WB, UNDP, Tacis, Danish Management projects. I own and run a number of web-sites.

I am author of more than 40 scientific works including 4 patents, six books related to Information and Communication Technologies (ICTD) published in Russian and Georgian. I am founder and the only designer of this web-resource. And finally I would like to let you know that since English is not my mother language; the texts of this web-site could be far from being model of perfection.
Details

Hits: 29360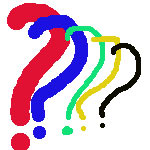 You are welcome simply to visit the My-message website, to view some articles, explore all resources, and leave it at that. But there are a number of reasons why you might like to register: 
you will be able to dip in and download all items you would like to – computer programs, images, photos, music, video etc. Unregistered users merely can't see the items available for downloading on this web-site.
in the future you will be able to publish you own opinion on specific thematic articles allocated on the website.
you will receive a monthly email, snappily summarizing the best stories. The email is sent out last Saturday of a month, allowing you to pepper your weekend conversation with nuggets of news and analysis about all the latest happenings on the web-site.
you will be able to comment articles, photos and videos. 
you will have access to restricted photos and 

videos.
Details

Hits: 11975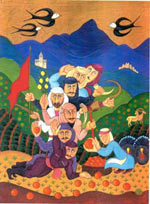 The Individual Enterprise which runs the my-message.com has created this privacy statement in order to demonstrate its firm commitment to privacy.

The web-site engine is based on Joomla CMS — but content is prepared completely by myself. Your data is stored only in case you are registered. Registration is not mandatory, but has some advantages (see here). Your e-mail address, your personal name, and some other details are THE ONLY PIECES of personally identifiable information we retain at any time if your provide us with for advanced access and communication purposes. You are free to change it at any time. I do not subcontract or "farm out" our list management, so there is NO CHANCE that your personal and private mail or e-mail address will be disclosed to any third party. Moreover, I feel quite strongly about the privacy of mail and e-mail addresses and NOTHING could induce my to divulge our customer's mail and e-mail address to any third party.

There are no annoying pop-up windows, hidden scripts on the web-pages. There could be advertisements by third parties and Google AdSense program in order to generate some income to financially support the web-site.


Your IP Address - We use your IP address (it is temporary in most cases and does not reveal your identity) to help diagnose problems with our server and to learn popularity of our web-site through traffic study.

Public Forums – My site does not make chat rooms, forums, message boards, and/or news groups available to its users now. But there is a system installed through which our customers could publish articles. This feature is moderated by me. If you consider that particular message contains offensive materials or violated your rights please let me know and I will remove those materials immediately. So visiting my website you feel safe from the point of view that any information that is disclosed in these areas becomes public information and you should exercise caution when deciding to disclose your personal information.

As practically all contemporary web-sites do the system deals with "cookies" which actually are arranged for your benefit.
Restrictions

My-Message.com does not allow authors and contributors to offer products or services that are illegal, infringe upon the intellectual property rights of third parties, or can be easily used for illegal purposes.

If, in My-Message.com's sole discretion, the information being uploaded upon the web-site are such it will be immediately withdrawn from the web-site and registration account of the author will be baned immediately.

You can NOT mention, promote or advertise:

1. Adult subscription services, chat, or any pornography content (pictures, videos, DVDs, magazines).
2. Narcotics and tobacco products, smoking mixtures or tobacco substitutes.
3. Any site with a lottery, raffle, or contest.
4. Credit Repair Services, applications for financial services or loans, collection services.
5. "Money Making Schemes", e.g. Matrix, Multi-level Marketing, Get-Paid-for-Surveys, Home Mailing Services, Secret Shopper Services, Etc...
6. Psychic readings.
7. Sites and issues that promote hatred, racism or religious persecution
8. Degrees or diplomas (Unless accredited by an association recognized by CHEA, ASPA, or U.S. Secretary of Education).
9. Human body parts, fluids, and remains.
Details

Hits: 207308
This is an attempt to collect my personal experience related to presence, surfing and use of Internet since early 90s. I would like to emphasize that approach in Internet resources choose, collecting articles, photos, music, multimedia and other materials is purely subjective. It is completely impossible to be professional in many fields represented here if you are not revived Leonardo da Vinci. I believe that even if great Leonardo had risen from the dead he would restrict himself to a couple of activities which are immensely deepened and broaden since XVI century.

 

Taking in consideration that the Internet actually has become enormous collection of various resources it is almost impossible to keep pace with newly emerged resources (since they are fresh and do not occupy high positions search engines results) and what is important – it is time consuming to exam them. This occurs partly because of the fact that they are overloaded with advertisement, third parties content, images, pop-up windows, etc. In some cases they carry computer scripts, which are trying to penetrate into users computers and steal confidential information or, what is worth, make them "zombies".

 

I would like to assure you, that you will meet nothing of that on this website. They are two things only, which are normal for contemporary Internet – the system installs "cookies" on your computer in order to provide you with more flexibility and comfort when navigating my web-site and user registration, which is not mandatory and will just provide you with access to more resources and functionality, like possibility to write articles on the web-site or download free content.

 

You will find bios, stories, statistics, photos, video, music and much more on the most prominent, beautiful, gifted, famous and less famous humans of all times. You be able to use the links to the best relevant resources on the web which are free from pop-up windows, malicious software, viruses. You might already know them, but do not have relevant links to them since the Internet is huge and you could lost yourself in billions of pages. May be you just do not have an idea on some events, subjects, technologies which I will bring to your attention. Anyway, I hope my web-site will be useful and interesting for you. Any comments, advise and feedback is welcome.

 

This resource helps people to find websites that are reliable and useful, while avoiding wasted time with websites that aren't and potentially could be even harmful. It's easy to participate (for registered users), because you can submit and edit articles in any directory provided in the left-hand menu.


We invite everyone to engage with my web-site and make it more comprehensive and useful for network society. This could be done through articles and comments provision. When registered, you will have, in fact user-friendly environment to express your views, concerns and comments on any subject from the left-hand menu. To avoid spam, unnecessary advertising and touching of forbidden topics your contributing submissions will be moderated by human. So, register now.